Student Registration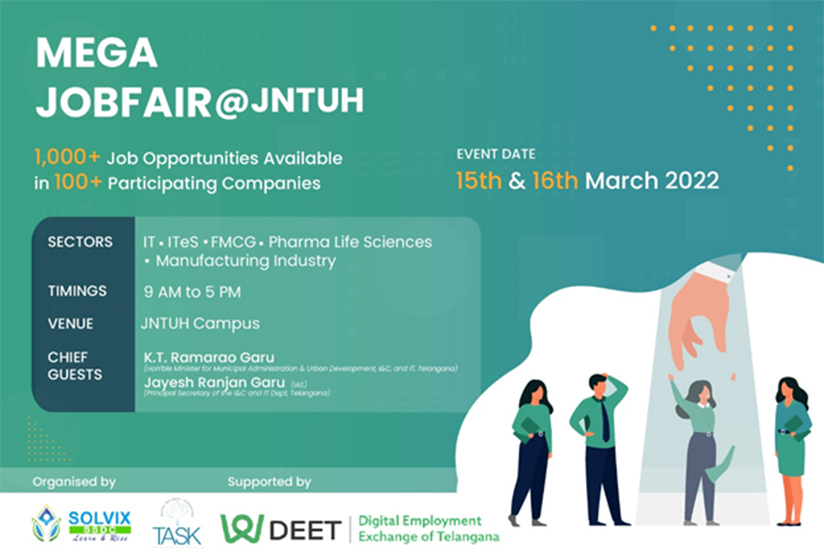 Dear Students,
Still looking for the right job, let us help you get it.
Announcing 'JobFair@JNTUH', a multi-industry and multi-profile job fair organised by Solvix and supported by TASK, DEET and News18 Telugu as part of JNTU's Golden Jubilee celebrations on 15th& 16th March 2022.
With 20,000+ vacancies and over 100 companies participating in this job fair, we will help you connect with some of the biggest employers and a huge array of jobs to choose from. But hurry as registrations are filling in fast.
Register yourself today https://forms.gle/BfP88d8JB3jUSeCj8. Please note that there is no registration fee.
Look forward to seeing you !
Meet you @ Jntuh
www.solvixskilldevelopment.com
support@solvixskilldevelopment.com
8790056665/8309662045
Client Registration
Dear Sir,
Greeting from Solvix !
Pray that this mail finds you, your family and team well and in good health.
On the occasion of the Golden Jubilee Celebrations of JNTU, we are pleased to bring you 'JobFair@ JNTUH' a unique multi-industry and multi-profile job fair which will see the participation of over 100 companies and over 50,000 students to select from across Telangana.
Organized by Solvix and supported by TASK, DEET , the job fair will be held on Tuesday 15th March for all industry recruitments and on 16th March for the  major all  industry recruitments. The students will be from the passing out years 2019 onwards. Apart from these students, we will also have experienced candidates  who had taken a career break and now want to return back to work .
We invite you and your organization to be part of this unique job fair and meet some of your recruitment needs from it.
Request you to please take 5 minutes to fill in the details of the job profiles, eligibility, skills required and CTC using the link https://forms.gle/L8VjfA3dsn1o9qLG9,so that we can help your organization to get the right candidates.
Please note that there is no registration fee or fee on recruitment of candidates.
Looking forward to your participation. We would be happy to assist for any further clarifications.
www.solvixskilldevelopment.com
Contact Us: support@solvixskilldevelopment.com